Sentient – Africa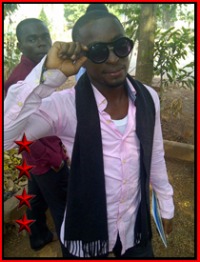 Freedom Fighter
Dan Fodio is the leader of a vigilante force, fighting to defend the free people of Nigeria against the Islamic extremist group Boko Haram.
After being ambushed, Dan wakes in a cellar to discover the world he once knew has changed forever a new, far more deadly threat is now present.

About the Authors
Ebuka Okparauzoma and Co-writer, Neec Nonso stand-out. They're intelligent, adaptive and have a great vision for Sentient.
Africa has the fastest growing economy in the world. It is one of the most creative, engaging, dangerous and exotic locations imaginable and as it grows, there is a demand for local content to supply Africa's hunger to explore their own place in the world.
Ebuka, Neec and Team Africa are perfectly placed for the African creative revolution. We are proud to have them onboard as part of the Sentient, global team.

 Season One – Africa
View Ebuka's original concepts for the Sentient series here.
Listen to Petra Caramela's original song inspired by Ebuka's work. 


Team Africa 

Development notes