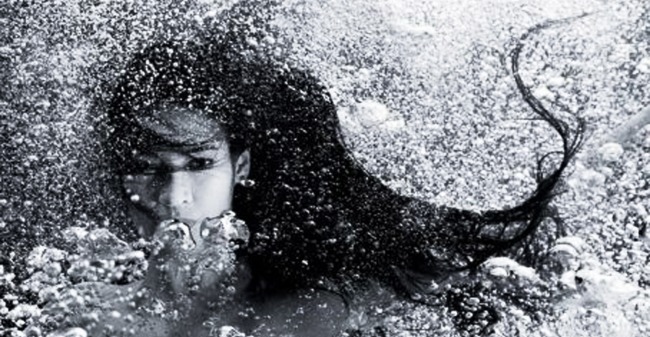 Collaboration
UK based composer, Dale Sumner and Czech POP princess, Petra Caramela are both well known to the Sentient development community. 
Petra created an alluring love song and performed it, 'as if' she were, 'Kayla', Lt. Commander Michael Dowd's estranged wife, now possessed by an alien lifeform. 
Dale created the haunting soundtrack for Petra's work. 
Like it? Log in and leave a comment below.
Lyrics 
I can feel you look at me
It's me in you and you in me
Our souls intertwine
The sea washed the red glow
From my eyes and skin long time ago
It spared my memories
They are what we are made of
Our spirit forever young and fresh
In present that is being reborn
Old world we knew is dead
But our love shall live on with our memories transformed, electrified
And the flower of our love that blossoms in me
Makes us rich with of all possibilities
Our love is real as the moments of happiness
Prevail in our hearts
Everything we thought was never is now
And conscience feels like an ocean that reveals how
You can't live in past, you can't escape
So give in to reborn me
I am your new life
I know that for sure as I feel safe in your arms
Like being embraced by the deep blue sea
Insatiable
I want to play with you
I want to smell your hair
I want to listen to your breath again
Like I listen to the waves
I can't wait to be next to you
I want to see in your eyes the silver starlight and power of the sun
I can feel you call me

Did you know? 
The alien life form that inhabits Kayla retains all the synaptic connections and memories of Kayla but the memories mean nothing to them until the lifeform encounters a sensory stimulus such a visual, audio, smell or touch event that triggers recollection of not just the memory but also the feelings associated with that memory. When Kayla, (inhabited by the alien lifeform), encounters her estranged husband, Australian Navy Lt. Commander Michael Dowd for the first time, it is his unique scent that triggers feelings of love she cannot comprehend or know how to deal with. 
Feelings can be a good thing but feelings can be very dangerous. 

Sentient soundtracks