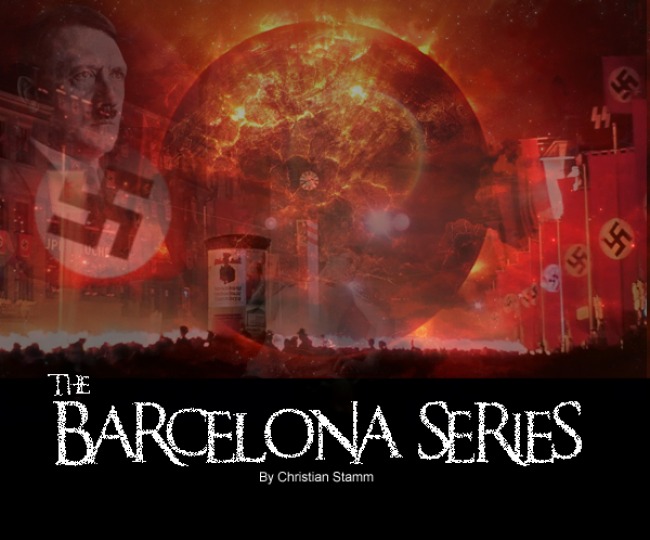 The first
The first in the series is titled, 'El Presidente'.

Synopsis 
A feared dictator returns to possess the soul of a Spanish political leader.
Introduction 
Christian Stamm's original concept explores a former Spanish dictator returning to possess a contemporary Spanish political leader.
The Moscow series introduced the concept of the return of the, 'evil archetype from history', in that case, 'The Inquisitor'.
We have published Christian's original script but have important notes re the changes and path we'd like to see the work take. 
HOD's notes
The current script is long and verbose but the idea has legs.
Choice of dictator
The choice of dictator might be better served by the return of Adolf Hitler and the Nazi's as they represent a universal evil that everyone can immediately recognise.
There is no doubt that former Spanish dictators represent a terrible past but the Nazi's are a universal evil and Adolph Hitler employed a unique, 'theatre' that is once again, easily identifiable.
Introducing their return
The current script features a ultra-right wing conservative politician who is possessed. I'd argue there is little shift to be achieved there.
If you want to introduce Adolph in a unique way, certainly the introduction of theatre of the dictator, his mannerisms, pauses and so forth will start to reveal themselves during the possession but if you really want to go for an interesting start, have a young woman from the audience, (now also possessed), come forward and inquire in a gentle way, 'Dolpho?' All the Hitler character has to do is pause for a moment of true love, then respond, 'Eva'.
We just introduced Adolph Hitler and Eva Braun in a romance.
Add members of the audience all rising to the dictator and you have the return.
The Translator's role
Christian's character of the translator sees there is a problem, when no other translator does. He could choose to flee with a female translator.
They could run down a corridor, reach an emergency exit and emerge to discover a crowd of the possessed outside, waiting for them in complete silence. The possessed are, 'true believers' drawn to the dictator, like iron filings to a magnet. The Translator may turn back to discover the female translator he raced outside with is now also one of them. 
Conclusion
Create a short, simple, engaging scene with a unique twist on the introduction of the dictator using romance rather than ranting and introduce Christian's survivor character, the Translator and we will transform the work into a strong and executable piece.
Team Barcelona has a phenomenal resource of talent to execute this work. Presence is very keen to back their work and to develop a long term relationship with the team. 
Special thanks 
Thanks so much to Amanda Asquith for her editing and formatting service. 

El Presidente

Adventure is calling