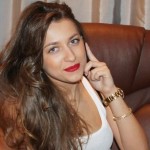 @maryna24kanivets
Active 8 years, 10 months ago
Hero points:
150

Journey Ambassador One
Value: 75 Hero points
Name
Full name

Maryna Kanivets – марина канивец

e-mail
Skype name

provbrilliant

How did you find us?

от друга

Location

Moscow – г.москва

About me

Occupation: Actress drama theater and cinema

Sports category : CCM "Candidate Master of Sports in art fencing "

Position – characteristic
Tone of voice – soprano
Musical instruments – piano ( self-taught )
Dance – total theatrical training ( ballet barre , folk machine basic Spanish dance )
Foreign languages ​​- English (basic ) , Ukrainian (Elementary)
Sport – cycling , gymnastics , plastic, scenic fight , aqua aerobics

Skills – a) stage fencing heavy and light weapons (member of the Artistic Fencing Federation Russian team «Volte» under arms. D.A.Ivanova ), b ) riding .

Other – juggling three balls

Awards – a) Championship of Russia on arf- fencing . – Room "The Shepherd " (Group – free style ) – 1 seat . 2013.
b) MOSCOW, GITIS -4 international festival stage fencing SILVER SWORD No. "Wallet" – diploma for grace and of zhenstvennost.2013
c) Third International German Championship in stage fencing , Monchengladbach. – Room " Amazon " ( fight on heavy weapons ) – 3rd place . 2011.

…………………………………………..
IN RUSSIAN
Специальность: Актриса драматического театра и кино

Спортивный разряд: КМС «Кандидат в мастера спорта по арт-фехтованию»

Амплуа – характерное
Тембр голоса – сопрано
Музыкальные инструменты – фортепиано (самоучка)
Танец – общая театральная подготовка (балетный станок, народный станок, основы испанского танца)
Иностранные языки – английский (базовый), украинский (разговорный)
Вид спорта – велоспорт;гимнастика,пластика,сценический бой,аква аэробика

Умения и навыки– а)сценическое фехтование на тяжелом и легком оружии (член Федерации Артистического фехтования России, команда «Volte» под рук. Д.А.Иванова), б) верховая езда.

Другое – жонглирование тремя мячами

Награды – а) Чемпионат России по арф-фехтованию.- номер "Пастырь"(Группа-свободный стиль)- 1 место. 2013г.
б) МОСКВА, ГИТИС- 4 международный фестиваль сценического фехтования СЕРЕБРЯНАЯ ШПАГА- номер "Кошелек"- грамота за грацию и женственность.2013 г.
в) Третий Международный чемпионат Германии по сценическому фехтованию, Мёнхенгладбах.- номер "Амазонки" (бой на тяжелом оружии)- 3 место. 2011г.

Websites

http://vk.com/id45888488
http://www.youtube.com/watch?v=yRfqLPVzeFI

Quotes that inspire

Надо стараться все делать хорошо: плохо оно само получится.