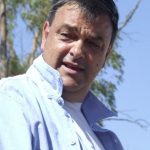 @davidk
active 1 year, 4 months ago
Hero points:
475
Name
Full name

David Knight – Production manager – Line Producer – Location services

First name

David

Surname

Knight

e-mail
How did you find us?

Linkedin and Steiny

Location

Sydney Australia

About me

 Line Producer, Manager & Locations & Logistics
Company Name
DK Locations & Production services

I am confident of making a positive contribution to any production environment. I thrive on a challenge and give optimum performance in all situations that require my demonstrated abilities, and drive for excellence.