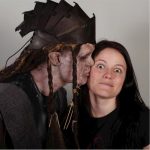 @crystal
active 4 months, 3 weeks ago
Hero points:
385
Name
Full name

Crystal Davies – Makeup and Special Effects Artist

First name

Crystal

Surname

Davies

e-mail
How did you find us?

Linkedin and Steiny

Location

Sydney Australia

About me

Crystal Davies is a Makeup and Special Effects Artist with experience in Australian film and TV productions both in studio and on location. A finalist in the International Makeup Artist Trade Show Character/Prosthetic student competition in Sydney 2011, she thrives when designing, creating and replicating SPFX looks and scenarios, including prosthetic application.

A passionate, dedicated, and skilled Makeup Artist with a love of horror, fantasy, and sci-fi storytelling in all mediums.