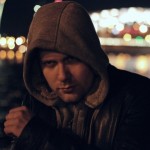 @troll
active 2 weeks, 3 days ago
Hero points:
41,120

Journey Published Screenwriter
Value: 400 Hero points

First Campaign - Silver swords - Veteran Stamp
Value: 50 Hero points

First Campaign - Three star - Veteran Stamp
Value: 500 Hero points

Valued contribution
Value: 100 Hero points

Sentient Scriptwriter
Value: 250 Hero points

Sentient Award for Excellence
Value: 0 Hero points

Sentient Content Creator
Value: 500 Hero points

Sentient Scriptwriter
Value: 500 Hero points
Name
Full name

Nikita Ivanenko

First name

Nikita

Surname

Ivanenko

e-mail
Skype name

mr_tr0ll

How did you find us?

David Steinhoff told me about the site on stage 32

Location

Moscow (Russia)

About me

Hi everybody! My name's Nikita, i'm 23 i live and work in Moscow. My main profession is related with finance, i work as an analyst in bank. But movies have always been my true passion, so i started writing scripts at the age of 21. At the current moment i have 5 ready scripts (3 forms a trilogy based on the books of H.P.Lovercraft), 2 are stand alone products. I'm also working on the 6th script and try myself in writing 10-episode series. Till now all my works are related with fantastic elements in different genres. In the nearest future i'm going to start looking for an agent in Hollywood. I work with mr. Daniel Joubert of South Africa, who helps me with the writing. I'm looking forward to making new contacts and a career in entertainment industry. You can also find about my works on InkTip.com.

Websites

https://www.stage32.com/profile/90357/nikita-ivanenko

Quotes that inspire

The list of the quotes i like is far to long, so i won't be stealing your time making you read them all. Of the latest ones that inspired me i can mention the famous monologue from Macbeth ( starts with "Tomorrow, and tomorrow, and tomorrow…" and so on) and one quote from Arthur Clark, which i aslo used as an epigraph in the script about space travel (i'm finishing it in a couple of weeks):
Two possibilities exist: either we're alone in the universe, or we are not. Both are equally terrifying.